Seat Plan and Allocation of Tickets
As with previous years, we will have raked seating and stalls. Seating will be allocated.
This year we have changed our booking system that has a significant cost saving for the group, and allowed us hold our ticket price increase down considerably, from where it would have had to be this year.
The major change is that you can no longer select your own seats. The box office team will allocate the best seats on a first come-first served basis.
When booking, please feel free to add any special requirements you might have when prompted during the booking process.
Rows K to Q are raised, whilst A to J are on the floor. We have no row i.
Please ensure you select the correct type of ticket you require - ensuring you select if you wish to be in the stalls or on the raked seating.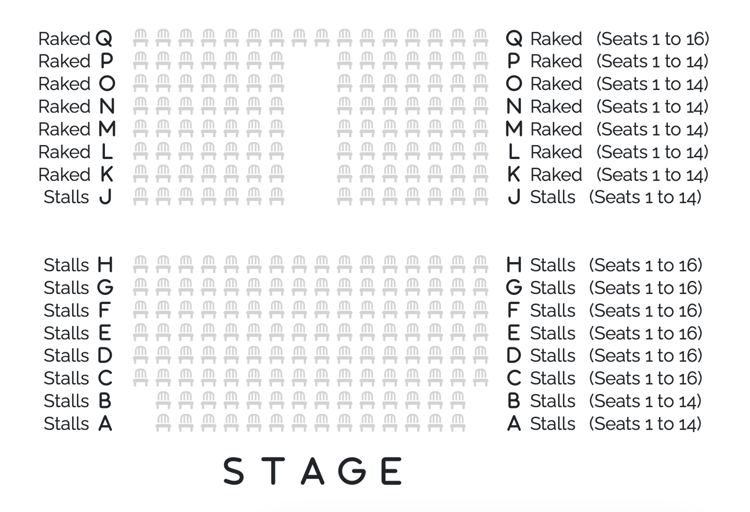 Cinderella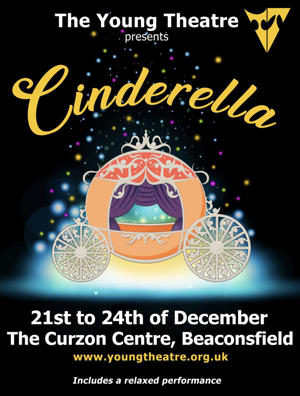 Join us this Christmas for laughter, singing, dancing and magic as we venture into the story of a much loved fairytale.
Will Cinders find her Prince Charming?
Will the wicked Stepmother get in the way of true love?
And will those awful ugly stepsisters manage to fit their stinky feet into the glass slipper? ​
With an original script, loads of great songs and music, and some truly ridiculous jokes,
we hope to see you (and hear you) as we join Cinders, Buttons, the Prince and the Fairy Godmother in an unforgettable and energetic theatrical extravaganza!
Boo and hiss at the evil Stepmother, laugh at the silly stepsisters and sing along
with Buttons and the talking mice!
​​Directed by Emma McGrath
---
Thursday 21 December 2023 from 07:00 pm to 09:45 pm (Evening)
---
Raked Seating
---
Tickets
Adult Ticket
Raked Seating

14.00
Blue Light Card Ticket
Raked Seating

12.00
| | | |
| --- | --- | --- |
| Blue Light Card Ticket : £12.00 | | |
Child Ticket
Raked Seating

6.00
Family Ticket
Raked Seating

37.00
| | | |
| --- | --- | --- |
| Family Ticket (2 Adults and 2 Children) : £37.00 | | |
Stalls
---
Tickets
Adult Ticket
Stalls

14.00
Blue Light Card Ticket
Stalls

12.00
| | | |
| --- | --- | --- |
| Blue Light Card Ticket : £12.00 | | |
Family Ticket
Stalls

37.00
| | | |
| --- | --- | --- |
| Family Ticket (2 Adults and 2 Children) : £37.00 | | |
---
Friday 22 December 2023 from 02:30 pm to 05:15 pm (Afternoon)
This is a RELAXED PERFORMANCE
Raked Seating
---
Tickets
Adult Ticket
Raked Seating

14.00
Blue Light Card Ticket
Raked Seating

12.00
| | | |
| --- | --- | --- |
| Blue Light Card Ticket : £12.00 | | |
Child Ticket
Raked Seating

6.00
Family Ticket
Raked Seating

37.00
| | | |
| --- | --- | --- |
| Family Ticket (2 Adults and 2 Children) : £37.00 | | |
Stalls
---
Tickets
Adult Ticket
Stalls

14.00
Blue Light Card Ticket
Stalls

12.00
| | | |
| --- | --- | --- |
| Blue Light Card Ticket : £12.00 | | |
Family Ticket
Stalls

37.00
| | | |
| --- | --- | --- |
| Family Ticket (2 Adults and 2 Children) : £37.00 | | |
---
Saturday 23 December 2023 from 01:00 pm to 03:30 pm (Afternoon)
---
Raked Seating
---
Tickets
Adult Ticket
Raked Seating

14.00
Blue Light Card Ticket
Raked Seating

12.00
| | | |
| --- | --- | --- |
| Blue Light Card Ticket : £12.00 | | |
Child Ticket
Raked Seating

6.00
Family Ticket
Raked Seating

37.00
| | | |
| --- | --- | --- |
| Family Ticket (2 Adults and 2 Children) : £37.00 | | |
Stalls
---
Tickets
Adult Ticket
Stalls

14.00
Blue Light Card Ticket
Stalls

12.00
| | | |
| --- | --- | --- |
| Blue Light Card Ticket : £12.00 | | |
Family Ticket
Stalls

37.00
| | | |
| --- | --- | --- |
| Family Ticket (2 Adults and 2 Children) : £37.00 | | |
---
Saturday 23 December 2023 from 06:00 pm to 08:45 pm (Evening)
---
Raked Seating
---
Tickets
Adult Ticket
Raked Seating

14.00
Blue Light Card Ticket
Raked Seating

12.00
| | | |
| --- | --- | --- |
| Blue Light Card Ticket : £12.00 | | |
Child Ticket
Raked Seating

6.00
Family Ticket
Raked Seating

37.00
| | | |
| --- | --- | --- |
| Family Ticket (2 Adults and 2 Children) : £37.00 | | |
Stalls
---
Tickets
Adult Ticket
Stalls

14.00
Blue Light Card Ticket
Stalls

12.00
| | | |
| --- | --- | --- |
| Blue Light Card Ticket : £12.00 | | |
Family Ticket
Stalls

37.00
| | | |
| --- | --- | --- |
| Family Ticket (2 Adults and 2 Children) : £37.00 | | |
---
Sunday 24 December 2023 from 11:00 am to 01:30 pm (Morning)
---
Raked Seating
---
Tickets
Adult Ticket
Raked Seating

14.00
Blue Light Card Ticket
Raked Seating

12.00
| | | |
| --- | --- | --- |
| Blue Light Card Ticket : £12.00 | | |
Child Ticket
Raked Seating

6.00
Family Ticket
Raked Seating

37.00
| | | |
| --- | --- | --- |
| Family Ticket (2 Adults and 2 Children) : £37.00 | | |
Stalls
---
Tickets
Adult Ticket
Stalls

14.00
Blue Light Card Ticket
Stalls

12.00
| | | |
| --- | --- | --- |
| Blue Light Card Ticket : £12.00 | | |
Family Ticket
Stalls

37.00
| | | |
| --- | --- | --- |
| Family Ticket (2 Adults and 2 Children) : £37.00 | | |
---
Sunday 24 December 2023 from 04:00 pm to 06:45 pm (Afternoon)
---
Raked Seating
---
Tickets
Adult Ticket
Raked Seating

14.00
Blue Light Card Ticket
Raked Seating

12.00
| | | |
| --- | --- | --- |
| Blue Light Card Ticket : £12.00 | | |
Child Ticket
Raked Seating

6.00
Family Ticket
Raked Seating

37.00
| | | |
| --- | --- | --- |
| Family Ticket (2 Adults and 2 Children) : £37.00 | | |
Stalls
---
Tickets
Adult Ticket
Stalls

14.00
Blue Light Card Ticket
Stalls

12.00
| | | |
| --- | --- | --- |
| Blue Light Card Ticket : £12.00 | | |
Family Ticket
Stalls

37.00
| | | |
| --- | --- | --- |
| Family Ticket (2 Adults and 2 Children) : £37.00 | | |
---